Yellow breasted Chat, Arcadia, Northampton, MA, Sep 9, 2016
Yellow breasted Chat, Arcadia, Northampton, MA, Sep 9, 2016
Connecticut Warbler (yes really),

Arcadia, Northampton, MA, Sep 9, 2016
Common Yellowthroat,

Arcadia, Northampton, MA, Sep 9, 2016
Palm Warbler (western),

Arcadia, Northampton, MA, Sep 9, 2016
Magnolia Warbler,

Arcadia, Northampton, MA, Sep 9, 2016
Eastern Kingbird,

Arcadia, Northampton, MA, Sep 9, 2016
Looking toward Holyoke range from Arcadia,

Northampton, MA, Sep 9, 2016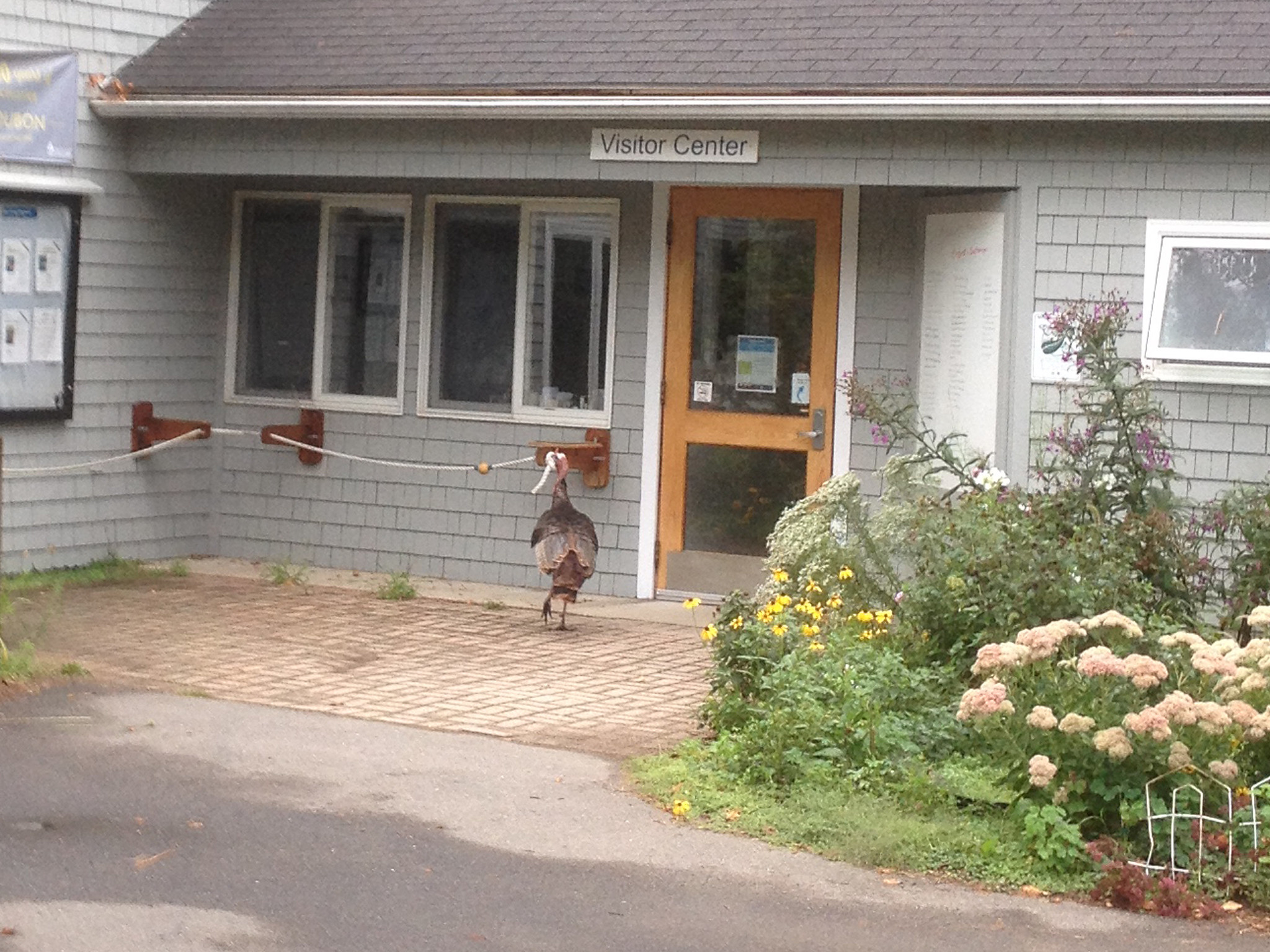 Wild Turkey waiting for the visitor center to open,

Arcadia, Northampton, MA, Sep 9, 2016
Following some overnight rain showers that lingered into the morning with low clouds and fog I set out before sunrise to head over to the fields along the river in search of shorebirds. I arrived at the Honey Pot before dawn and then spent about an hour scanning through a number of fields but only managed to turn up 22 Killdeer and a single Spotted Sandpiper. I was really hoping for a Buff breasted Sandpiper and/or an American Golden Plover but it was not in the cards today (it looks like Sunday morning may be the best time to look again for these two species). My plan after looking for shorebirds was to head over to Arcadia and spend some time checking the fields and edges for anything unusual. I made a brief check of the Oxbow and the area where waders had been hanging out but only came up with the typical gulls and a single Great Egret and a couple Great Blue Herons. It seemed somewhat quiet as I checked a few fields before heading down the old trolley line. After almost getting to the end near the woods of Ned's Ditch I had a Yellow breasted Chat briefly pop into view. After several minutes of looking and trying to get this notoriously skulking species to pop back out I had it call once. I then got another view of it as it sat behind some vegetation and I fired off several shots with the camera before it dropped from view once again. As I dropped the camera down and looked back up two more birds showed up at eye level just a few feet from where the chat had been...one was a Common Yellowthroat but the other was an adult male Connecticut Warbler! The Connecticut Warbler was partially hidden from view but I got great views of it in the binoculars. My attempt at photos was less successful and I got just a few blurry shots of a gray and yellow bird. I would have been happy to get either one of these species today but getting them both one right after the other was great. Two rare warblers within just a few feet of each other...good stuff. The Yellow breasted Chat can be very tough to find in the county and this is only my third record (the other records for me occurred on Sep 9, 2014 and Sep 21, 2005). Oddly all three of my sightings of this species have occurred within a quarter mile or less of each other at Arcadia. I managed to add two species to my county list for the year with the Yellow breasted Chat being #
216
and the Connecticut Warbler being #
217
. Other notable birds among the 55 species at Arcadia during my three hours there included a Great crested Flycathcer, an Eastern Kingbird and a couple calling Yellow throated Vireos. I have attached the full list from Arcadia here:
http://ebird.org/ebird/view/checklist/S31493746
After Arcadia I stopped briefly at Lower Mill Pond but found just a single Killdeer on the small mudflats. My next stop at the Holyoke Dam turned up the expected species but oddly I could not find a single swift or swallow. Just a few days ago here were hundreds and now they have all moved out. Lake Wallace still held a decent selection of waterfowl with around sixty Wood Ducks plus a few Green winged and Blue winged Teal. Hunting season for geese started on the 7th and there were not surprisingly no geese around today. I was actually surprised to see any waterfowl there as the hunting pressure at the lake can be heavy. By the time I finished at the lake it was late morning and the heat and humidity were quite high so I headed home quite content.