Blue winged Teal and Wood Ducks, Lake Wallace, Belchertown, MA, Sep 1, 2016
Great Egrets and Great Blue Heron, Holyoke Dam, South Hadley,

MA, Sep 1, 2016
Great Egrets, Arcadia, Northampton,

MA, Sep 1, 2016
Great Egrets, Arcadia, Northampton,
MA, Sep 1, 2016
Great Blue Heron, Arcadia, Northampton,
MA, Sep 1, 2016
River Otter, Lake Wallace, Belchertown, MA, Sep 1, 2016
I started off September in much the same way I have spent the last several days of August...looking for waders and shorebirds (and of course other migrants). I started at Winsor Dam and still had at least one whip poor will calling before the sun came up. I then headed over to Lake Wallace and had some decent waterfowl with six species including five Green winged Teal and four Blue winged Teal. Full list from the lake here:
http://ebird.org/ebird/view/checklist/S31356381
. As far as waders were concerned I had a couple Great Blue Herons and seven Green Herons. I then headed down to the Holyoke Dam where I had a handful of Great Blue Herons and ten Great Egrets. My next stop at Arcadia once again turned up some great numbers of waders including 13 Great Blue Herons, 22 Great Egrets and a couple Green Herons. A check along the river in Hadley turned up four more Great Egrets bringing my total for the morning for this species to 36 which is my highest count ever for the county in a single day. As far as shorebirds I managed to find just four species and only a few individuals. Hopefully the northerly winds the next few nights will bring some in. A total of nine species of waterfowl for the first day of September is quite good and not what I expected. Besides the birds this morning I had some great views of a couple young River Otters at Lake Wallace and got a short video of the encounter...
https://www.flickr.com/photos/54277284@N05/29308376061/in/dateposted-public/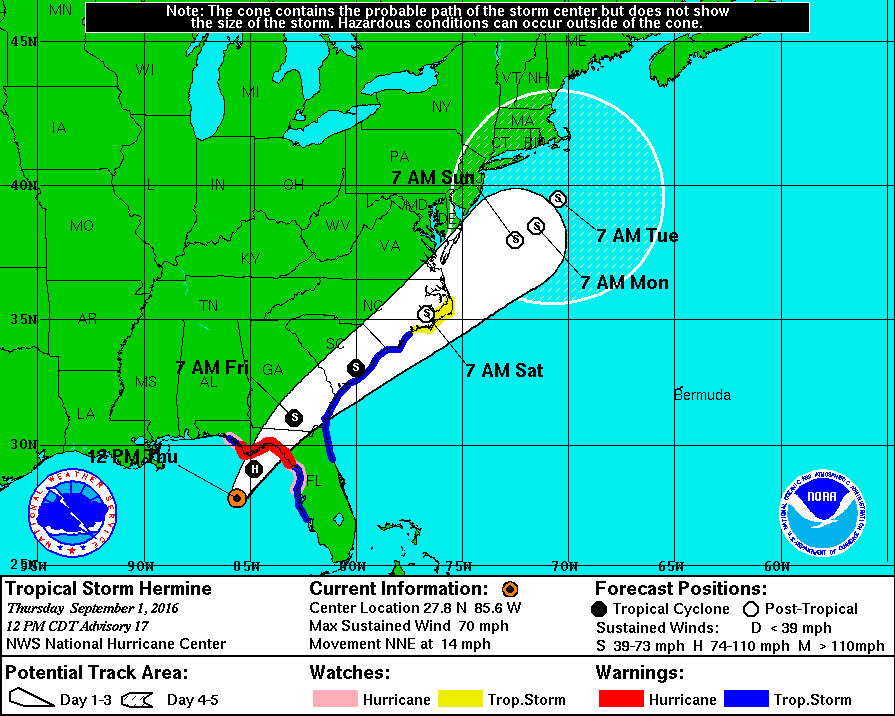 Projected path of Hurricane Hermine, Sep 1, 2016 (courtesy of NHC)
Now onto the tropics once again. Tropical Storm Hermine became Hurricane Hermine this afternoon as the sustained winds increased to hurricane strength. It is forecast to hit the big bend area of Florida as a category 1 hurricane and then head along the southeast coast before being pushed to the north and slowed by a blocking high pressure. Will the storm have an impact here? It seems likely it will have some impact but the real question is how much and that will be determined by a number of factors with the interaction of the storm with offshore high pressure system being one of the biggest. The storm may have a greater impact to our south but a slight bump further north will mean a greater impact here. The track is not optimal for us to get a great chance for unusual birds to show up as the track is offshore but the chance is still there. At the very least the storm will put the breaks on migration for few days and if heavy rain occurs there is the chance of grounded migrants with shorebirds probably the most likely species. As the storm gets closer and the potential impact becomes more apparent I will update as needed. The time frame for any impact here would be from Sunday possibly into Tuesday. To take a look at past tropical systems that have impacted western mass please check out the link to a previous post regarding the subject:
http://quabbinbirdingandbeyond.blogspot.com/2015/02/a-look-at-tropical-storm-related.html
Black capped Chickadee with leg bands, Home, Belchertown, MA, Sep 1, 2016
Black capped Chickadee with leg bands, Home, Belchertown, MA, Sep 1, 2016
At home this afternoon I ran across another banded Black capped Chickadee I had not seen since it was banded back in June. The female (orange and white bands) was travelling with a banded male (red and pink bands).