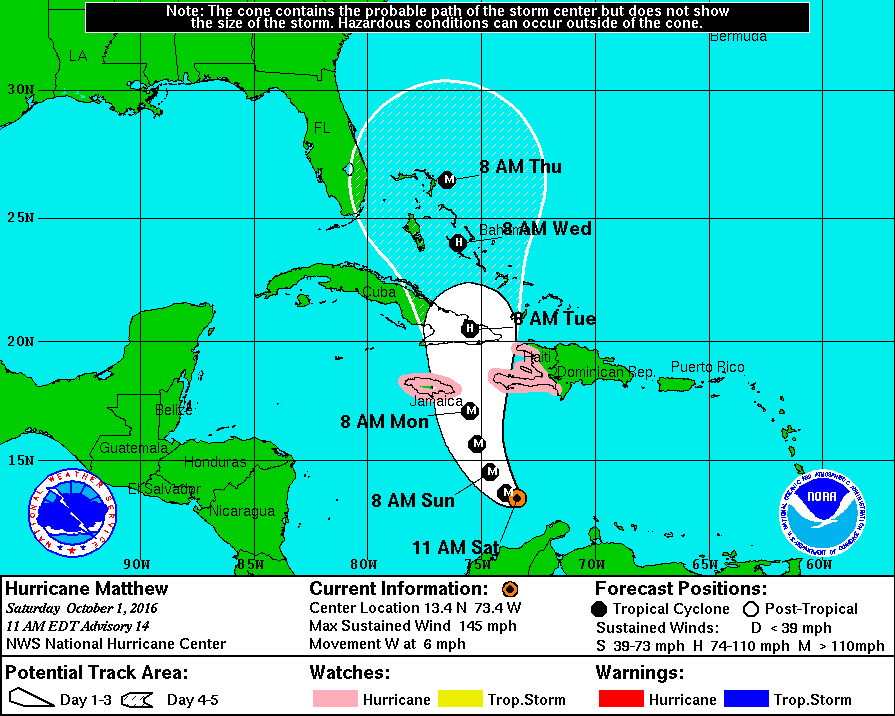 Hurricane Matthew forecast track, Oct 1, 2016 (11AM)
Hurricane Matthew grew to a Category 5 storm overnight with winds topping off at 160 MPH although it has now weakened slightly to a strong Cat 4 storm with winds around 150 MPH. It is forecast to continue to fluctuate in strength but remain a very dangerous major hurricane as it continues to move through the southern Caribbean. The forecast track still shows the storm taking a strong north turn and strike a direct or glancing blow to Jamaica, Cuba and/or Hispaniola in the next 2-3 days. It will almost certainly hit as a very strong hurricane and then likely lose a little strength as it interacts with land but once it makes it past those islands and into the Bahamas it will likely strengthen again into a major hurricane. As stated before the track after that is still far from certain and will likely not be clear for a few more days. Different models bring it into a variety of locations from Florida up the entire east coast to even out to sea. What model will be correct remains to be seen. The NHC forecast track has shifted slightly east and has slowed the storm a bit compared to yesterday.
Green Heron, Lake Wallace, Belchertown, MA, Oct 1, 2016
Swainson's Thrush,

Lake Wallace, Belchertown, MA, Oct 1, 2016
Yellow rumped Warbler,

Lake Wallace, Belchertown, MA, Oct 1, 2016
Blue winged Teal and Green winged Teal, Lake Wallace, Belchertown, MA, Oct 1, 2016
Winsor Dam, Quabbin Park,

MA, Oct 1, 2016
The conditions looked good overnight into today to ground migrants (waterfowl and late shorebirds) due to a northeast wind and rain but I didn't have any luck finding anything unusual in those species categories when I checked various parts of Quabbin, Beaver Lake and Lake Wallace this morning. The wind, rain and low clouds made viewing a bit of a challenge at times but I was able to view well enough. Despite no grounded migrants I did manage to turn up some good stuff at Lake Wallace including at least 28 Wood Ducks, both species of teal (three Blue winged Teal and eleven Green winged Teal), a late Green Heron and a flock of 27 Rusty Blackbirds (my biggest fall flock I have ever had of the species in the county). The unsettled conditions are forecast to continue throughout the weekend into Monday so perhaps something unusual will show up eventually.