Yellow Warbler, Honey Pot, Hadley, MA, Oct 3, 2016
Palm Warbler 'yellow',

Honey Pot, Hadley, MA, Oct 3, 2016
Yellow rumped Warbler 'myrtle',

Honey Pot, Hadley, MA, Oct 3, 2016
Savannah Sparrow,

Honey Pot, Hadley, MA, Oct 3, 2016
Yellow Warbler, Arcadia, Northampton, MA,

Oct 3, 2016
Green Heron, Lake Wallace, Belchertown,

MA, Oct 3, 2016
Eastern Comma, Silvio Conte NWR-Fort River, Hadley,

MA, Oct 3, 2016
The cloudy, cool, damp weather finally broke late this morning when the sun finally made an appearance and the temperatures responded, quickly rising through the 60's into the low 70's (warm enough for a number of butterflies to be out and about). The early part of the day (most of the time I was outside) was foggy and damp but it was at least a bit warmer. Yesterday I was still out despite some early rain showers and I covered a fair amount of territory looking in vain for downed shorebirds...just managed to find some Killdeer. I also made a brief stop at Conte NWR at midday while running errands in Hadley and the place was hopping with birds including a Clay colored Sparrow. Today I hit a few more areas for sparrows and other migrants and had some luck during my time at Arcadia, the Honey Pot and Silvio Conte NWR-Fort River (although the last stop was quiet with nothing compared to the activity of yesterday). Highlights included continued numbers of Common Yellowthroats and House Wrens, Yellow Warblers at both Arcadia and the Honey Pot and ever increasing sparrow numbers. While out for a walk with Wilson at Lake Wallace we found a Green Heron still hanging around. Full lists with more photos below.
Arcadia:
http://ebird.org/ebird/view/checklist/S31872468
Honey Pot:
http://ebird.org/ebird/view/checklist/S31872486
Silvio Conte NWR:
http://ebird.org/ebird/view/checklist/S31872217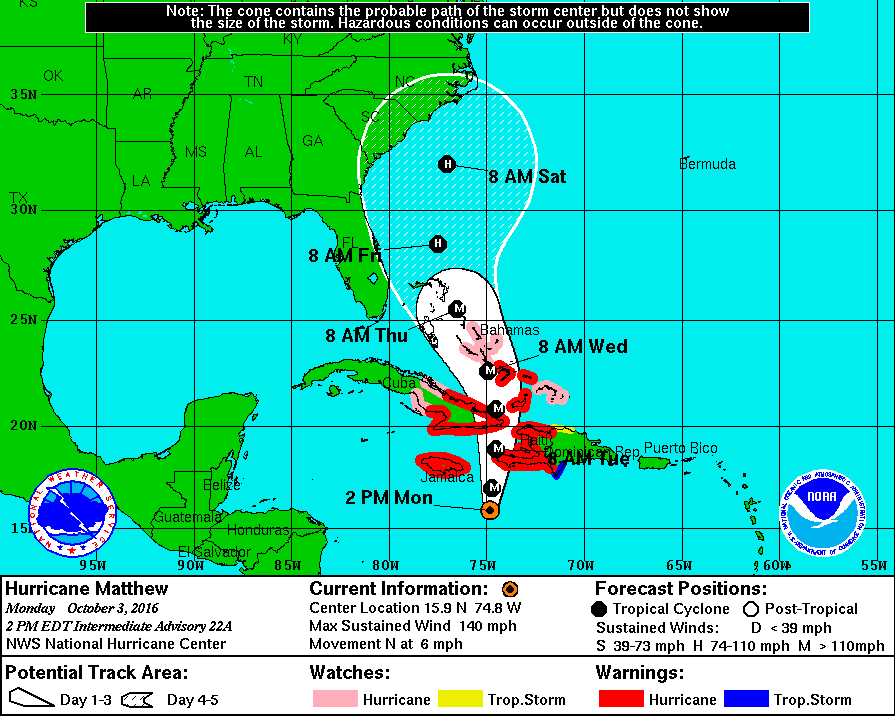 Hurricane Matthew projected path at 2PM, Oct 3, 2016 (image courtesy of NHC)
Model tracks as of Oct 3, 2016 (image courtesy Tropical Tidbits)
Hurricane Matthew continues to move north and continues to be a dangerous major hurricane with 140 MPH winds (Cat 4). It is or will be impacting Hispaniola, Jamaica and Cuba today into Wednesday and then it will be back over open water again the Bahamas where it will likely regain some of the strength it lost during interactions with the large islands. It is still not entirely clear what the storm will do then. There are many possibilities ranging from a direct impact into the carolinas, a near pass of the entire east coast, a direct impact in the northeast or out to sea...or some variation of any of those! It is really too tough to call at this point. The latest trends today is for a more westerly track which means a more likely impact somewhere in the US. If the storm were to impact here (either directly or a close pass) the time frame would be over the weekend. As before it bears watching and I will update as the week progresses and the exact track and potential impact here becomes a little clearer...not getting too excited about it yet but the potential is there.