Florida Scrub Jay, Canaveral NS, FL, Jan 18, 2016
Barrow's Goldeneye, Connecticut River, Hadley, MA, Jan 29, 2016
Palm Warbler, Home, Belchertown, MA, Apr 13, 2016
White whiskered Puffbird,

Carara NP, Costa Rica, Apr 11, 2016
Royal Flycatcher (life bird #1200), Carara NP, Costa Rica, Apr 11, 2016
Cerulean Warbler at nest, Skinner SP, Hadley, MA, Jun 10, 2016
Eastern Screech Owl, Silvio Conte NWR-Fort River, Hadley, MA, Sep 10, 2016
Sedge Wren,

Arcadia, Northampton, Sep 17, 2016
Connecticut Warbler, Arcadia, Northampton, Sep 22, 2016
Pink footed Goose, UMASS campus pond, Amherst, MA, Dec 6, 2016
Yellow-throated Toucan (Chestnut-mandibled), Rio Magnolia Lodge, Costa Rica, Dec 17, 2016
Mountain Bluebird, Turners Falls Airport, Turners Falls, MA, Nov 15, 2016
Time for a quick recap of 2016 before we get too far into 2017. Overall for the year I had 582 species and submitted 3163 eBird reports (which included my 20,000th eBird report). I took a variety of trips away from the local area during the course of the year including a short trip down to Florida in January, two trips to Costa Rica (one in April and the another in December), a long weekend trip to northern Vermont and nearby New York and a visit to Puerto Rico in December. The two trips to Costa Rica produced a total of 310 species and the trip to Puerto Rico produced 97 species. Overall I have now reached 1250 species with 60 new species this year with seven of those in Costa Rica in April plus 17 more in Costa Rica in December, 35 life birds in Puerto Rico and a single new species here in Massachusetts (a Mountain Bluebird). Loads of other highlights in the local area including an incredible year for Connecticut Warblers (at least ten including one at home!), a Sedge Wren, Barrow's Goldeneye, a Cerulean Warbler nest, a couple of Yellow breasted Chats (among 32 species of warbler this year), a second county record for Pink footed Goose...more on my Hampshire County year below.
Red headed Woodpecker, Lake Wallace, Belchertown, MA, Oct 15, 2016
'Ipswich' Savannah Sparrow, East Meadows, Northampton, MA, Jan 9, 2016
'Gambel's' White crowned Sparrow, Honey Pot, Hadley, MA, Jan 24, 2016
I topped my best year in Hampshire County by reaching 238 species with two of those being new in the county for me (Forester's Tern and Red headed Woodpecker) bringing me up to 290 species in the county ever. I also picked up two unusual sparrow subspecies in Hampshire County with a 'Gambel's' White crowned Sparrow and an 'Ipswich' Savannah Sparrow.
Ruddy Duck, Quabbin Park, MA, Jan 4, 2017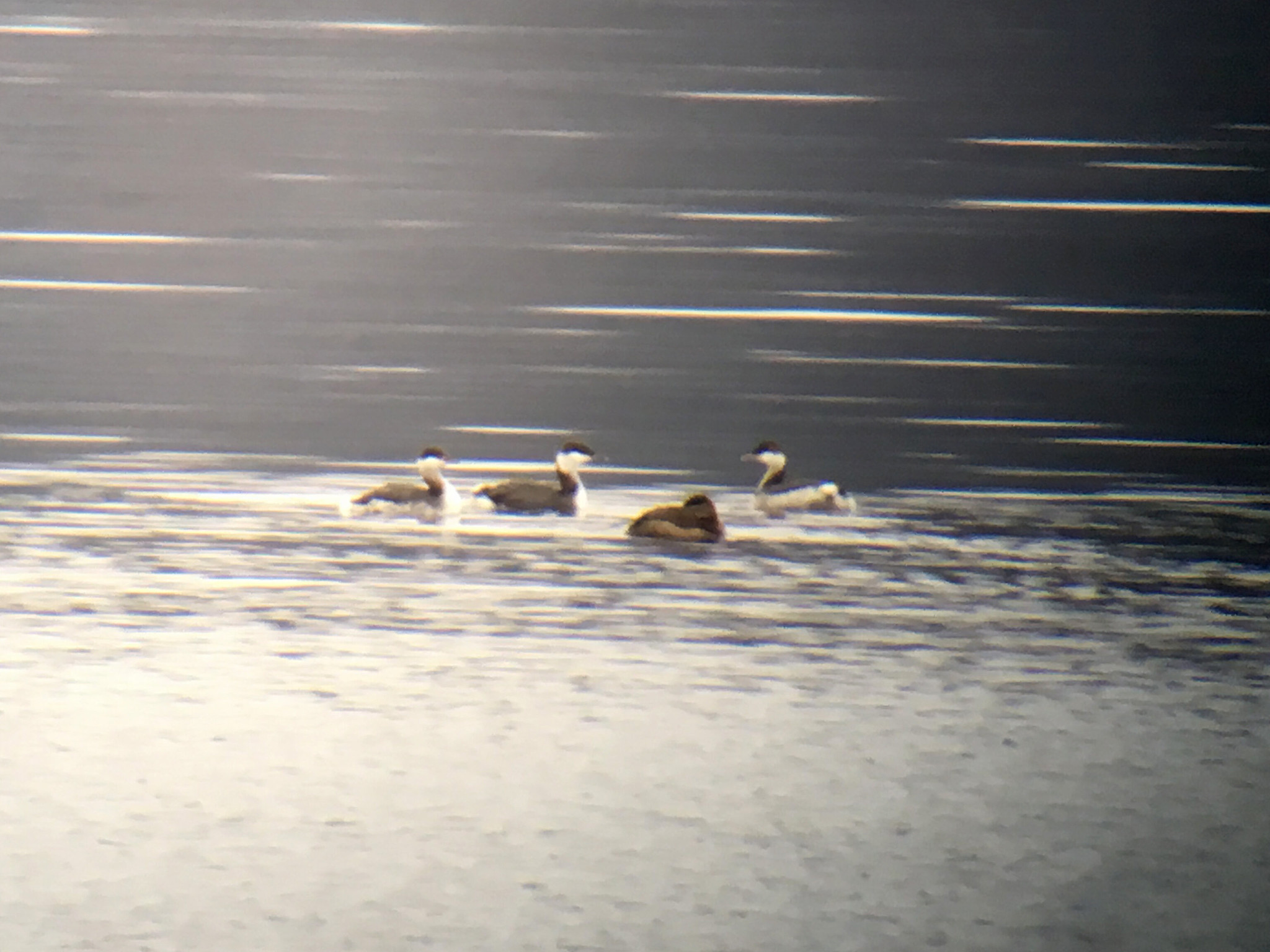 Ruddy Duck (with Horned Grebes), Quabbin Park, MA, Jan 4, 2017
Red headed Woodpecker, Lake Wallace, Belchertown,

MA, Jan 5, 2017
Ring necked Ducks (with Hooded Mergansers), Winsor Dam,

Quabbin Park, MA, Jan 5, 2017
Meanwhile the birding this year is off to a decent start around here with the weather somewhat cooperative with average temps and no major storms. The Red headed Woodpecker originally found in October continues at Lake Wallace and I found a Ruddy Duck at Quabbin Park (a tough species to find at any time in the county and very unusual for January) yesterday and relocated it today plus I added a pair of Ring necked Ducks for the year at Winsor Dam this morning. I have no plans for another big county year but it is always fun to see how many species you can find in January around cold Hampshire County...up to 58 species so far.