Semipalmated Sandpiper and Least Sandpiper, Hadley, MA, Aug 18, 2015
Solitary Sandpiper and Least Sandpipers, Arcadia, Northampton, MA, Aug 18, 2015
Great Egrets, Arcadia, Northampton, MA, Aug 18, 2015
Dawn, Arcadia, Northampton, MA, Aug 18, 2015
The last few mornings have been foggy so it has been tough viewing at times. Nonetheless I managed to get out Monday morning and checked the Connecticut River in Hadley and then the Honey Pot area. The river held a Spotted Sandpiper, a Lesser Yellowlegs and two Least Sandpipers for shorebirds. The nearby Honey Pot had a couple Killdeer and a single Least Sandpiper but not much else.

Today I stopped again along the river and this time had two Lesser Yellowlegs and half a dozen Least Sandpipers hanging out on the much reduced mud flats. A half hour spent over at Arcadia produced a Great Blue Heron and half a dozen Great Egrets (including the dark billed individual that has been present for several days). Shorebirds included three Killdeer, two Spotted Sandpipers, six Solitary Sandpipers and eleven Least Sandpipers. The other highlight there was a group of at least 140 Bobolinks along the roadside and in the fields to the east of the Oxbow. In addition another Great Egret was hanging out at Paradise Pond late morning when I drove by. An evening stop along the river produced a Spotted Sandpiper, two Lesser Yellowlegs, 14 Least Sandpipers and a Semipalmated Sandpiper.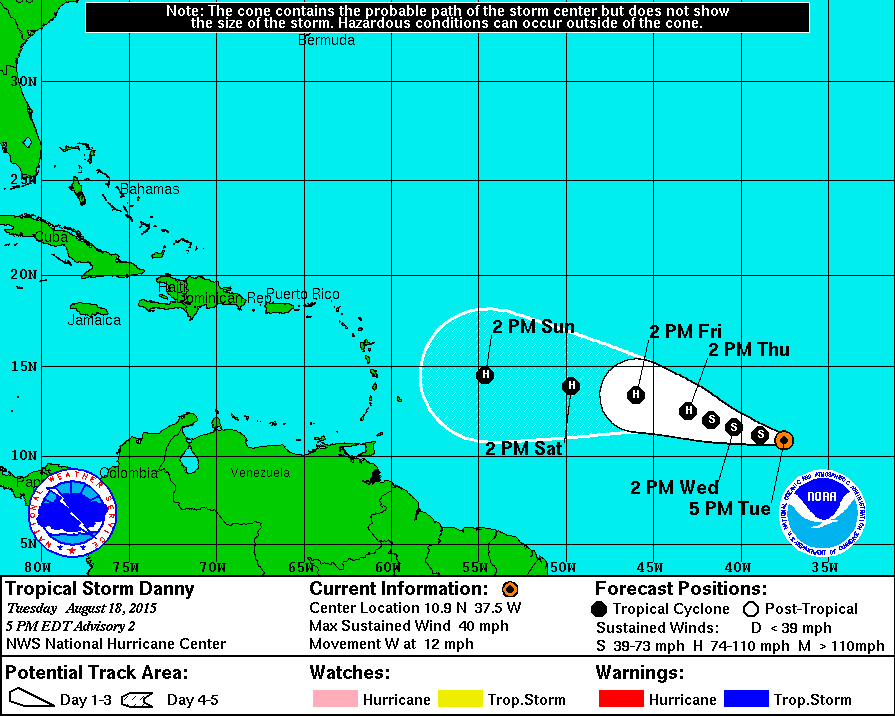 Tropcial Storm Danny forecast track as of evening Aug 18, 2015
The tropics seem to be coming alive a bit with the development of Tropical Storm Danny, the first Cape Verde tropical system to develop this season. The long range forecast call for it to develop into a hurricane by Thursday afternoon and then continue to move slowly westward toward the Lesser Antilles. Despite the existence of a strengthening El Nino and dry air to its north the system has a descent potential to become the first hurricane of the season. The big question will be what happens to the storm out past the upcoming weekend. Does it maintain strength and become a threat to the Caribbean or the east coast or does it run into elements (such as wind shear) that tear the system apart? It is way too far out to know at this point but the storm certainly deserves to be watched over the next several days.