Common Nighthawk, Home, Belchertown, MA, Aug 25, 2015
Common Nighthawk, Home, Belchertown, MA, Aug 25, 2015
Ruby throated Hummingbird, Home, Belchertown, MA, Aug 24, 2015
Ruby throated Hummingbird, Home, Belchertown, MA, Aug 25, 2015
Ruby throated Hummingbird, Home, Belchertown, MA, Aug 25, 2015
At home the Common Nighthawks continue to show well as their migration nears its peak. My numbers at home have been a bit lower than usual but others in the local area have had some really good numbers. My view of the sky is quite limited so I have to be happy with quality vs. quantity. I also have my motion activated camera up and running to try to catch late season hummingbirds and I'm getting lots of photos of a variety of plumage of Ruby throated Hummingbirds but hopefully something unusual will show itself this fall season.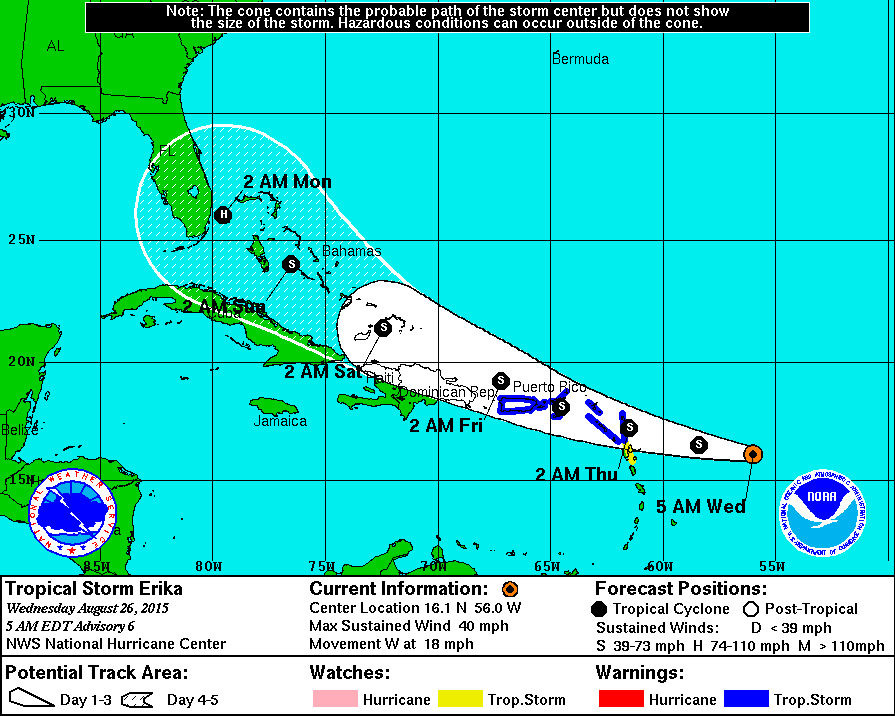 Tropical Storm Erika forecast track map, Aug 26, 2015 (courtesy of NOAA)
The tropics continue to be active with the formation of Tropical Storm Erika east of the Lesser Antilles and moving west fairly quickly. The storm is expected to follow roughly the same path as the now dissipated Hurricane/Tropical Storm Danny. Erika will face some of the same obstacles to strengthening that Danny faced including wind shear and dry air. The advantage that Erika has over Danny is a larger size and slightly less hostile conditions but the long range prognosis is far from certain. Some guidance models show the storm pushing west, northwest and impacting some of the northern Lesser Antilles and then tracking past Puerto Rico and into the Bahamas as a strong tropical storm/weak hurricane. Other guidance shows the storm tracking a little more to the south and getting weakened quite a bit as the hostile weather conditions and impact with larger islands take their toll. The storm is still forecast to eventually reach hurricane strength but there is also the distinct possibility that the combination of dry air, high wind shear and interaction of the storm with land with dissipate the storm resulting in a fate similar to Danny but the chances of this occurring is lower than with Danny but still very possible. Time will tell. If the storm manages to hold together and make it into the Bahamas the storm will almost certainly gain strength and become a threat to Florida and/or somewhere else on the east coast. As always there are so many factors at play trying to get an accurate handle on where the storm will be and how strong it will be several days out is very difficult to say with any amount of certainty but the storm certainly deserves to be watched.
It is probably way too soon to start thinking of an impact here but if it were to occur the chances are there for some unusual birds to be impacted by the storm. The waters just offshore of Massachusetts have featured some really good variety and numbers of pelagic birds lately so any storm striking the northeast could result in some unusual sightings. A recent pelagic trip out to the deeper waters of Massachusetts produced some amazing numbers of birds including multiple tropicbirds of two species, loads of Audubon's Shearwaters and various other storm petrels. The nearshore continues to feature lots of shearwaters, among many others (more on all of this if the storm indeed looks more likely to have an impact here).
Semipalmated Plover, Arcadia, Northampton, MA, Aug 25, 2015
Least Sandpiper, Hadley, MA, Aug 24, 2015
Meanwhile I have spent a little time the last few mornings checking out areas for shorebirds with some individuals found but nothing spectacular. On Monday I stopped along the river in Hadley and turned up 3 Lesser Yellowlegs and 13 Least Sandpipers plus a couple Eastern Screech Owl trilling back and forth. A brief stop at the Honey Pot found a few Killdeer but nothing else. On Tuesday I made it over to Arcadia just after a thunderstorm moved through and found a Semiplamated Plover 5 Killdeer, a couple Spotted Sandpipers, 5 Solitary Sandpipers and two Least Sandpipers. Also had a Peregrine Falcon sweep through and head toward the Oxbow as well as a single Great Egret. The water levels were already up a bit from some overnight heavy rain to the north and I suspect by tomorrow all the exposed mud will be covered with water. I set out this morning to check a few fields after yesterdays rain to look for shorebirds but brief rides through both the Honey Pot and the East Meadows turned up just a few Killdeer and nothing else. Granted the amount of decent looking fields is fairly low, there are still some areas that look to be ready to host some shorebirds....perhaps the next few mornings will be productive?